How To Use A Tens Unit for Lower Back Pain?
Introduction
Are you one of the millions of people suffering from lower back pain? Have you been searching for a solution that is both easy to use and effective in relieving your discomfort?
Tens unit therapy may be just what you need! Tens units are small, battery-powered devices used to provide drug-free relief from chronic pain.
Through mild electrical pulses sent through the skin, users can experience improved mobility and lessened tension, which can lead to a reduction of lower back pain. Keep reading to learn more about tens units for lower back pain and how tens unit technology could benefit you.
How To Use A Tens Unit for Lower Back Pain?
To use a tens unit for lower back pain, you need to first understand how it works. TENS stands for transcutaneous electrical nerve stimulation, and it involves sending mild electrical impulses through the skin. Below are the steps to use a tens unit for lower back pain:
1. Place Electrode Pads On The Affected Area
First of all, attach the electrode pads to the skin close to the area of pain. The pads or electrodes should be placed parallel and no more than 2 inches apart. Make sure they are firmly attached and not overlapping. If needed, shave the area of the application before attaching the pads.
2. Adjust The Intensity Of The Device, As Necessary
Adjust the intensity of the device so that you feel a tingling sensation, but not pain. If it is too strong or too weak, you can adjust the intensity setting. Otherwise, it is best to start at the lowest intensity setting before gradually increasing.
3. Select A Treatment Time And Frequency
One can use the tens unit for up to 30 minutes at a time and it can be used once or twice a day. During that time, you can set the frequency of the pulses and determine how long each pulse should last. We recommend using the tens unit for at least 15 minutes a day.
4. Monitor Your Progress And Adjust The Settings
Monitor your progress with the tens unit, to ensure that you are getting the best results. By using the device consistently, you can adjust the settings to get the most relief. Otherwise, if you find that the tens unit is not working; you can consult a physician who may be able to provide an alternative treatment.
When Is It Not Safe To Use A TENS Unit for Lower Back Pain?
Like any treatment, tens unit therapy is not right for everyone. There are certain situations in which it should be avoided. Let's take a look at when it is not safe to use a TENS unit for lower back pain:
1. If You Have Any Type Of Electrical Or Pacemaker
If you have any type of electrical device implanted, such as a pacemaker, you should not use a TENS unit. The electric signal could interfere with the functioning of the device and cause serious harm.
2. When Your Skin Is Damaged Or Infected
The electrode pads should not be placed on any areas of skin that are damaged or infected. Doing so could cause further complications and delay the healing process. Also, make sure to use a clean pad each time you attach it to the skin.
3. When You Are Pregnant
TENS units should not be used by pregnant women. The electrical pulses could potentially cause harm to the unborn baby. To be on the safe side, it is best to consult with a physician before using a TENS unit.
4. If You Have Heart Disease Or Epilepsy
For individuals with heart disease or epilepsy, using a TENS unit could potentially worsen the condition. Heart disease and epilepsy can be affected by electrical signals. Therefore, it is best to consult with a physician before trying this form of therapy.
Best TENS Unit for Lower Back Pain!
Nowadays, there are many different types of TENS units available to choose from. It is quite difficult to decide which one is the best, but here are three products that we highly recommend for lower back pain:
1. Omega TENS Unit
The Omega Tens Unit is a top-of-the-line device that allows you to customize your treatment. With its three channels, sixteen distinct modes, and variable intensity settings, this device is tailored to maximize your pleasure. Omega tens unit for lower back pain reduces muscle spasms and improves circulation. Also, its ergonomic design is comfortable to use.
2. TENS 7000 Digital TENS Unit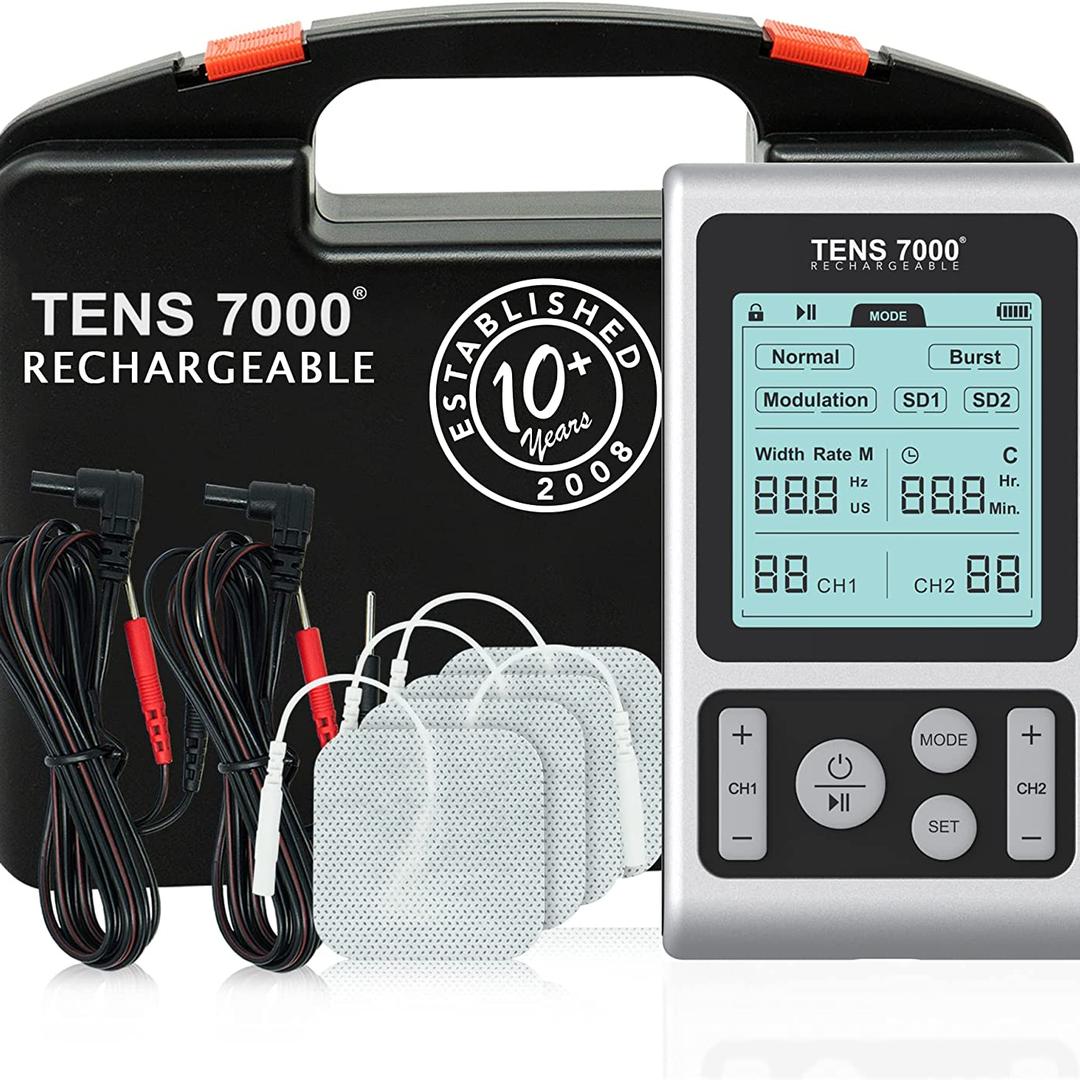 The best tens unit for lower back pain, TENS 7000 digital TENS unit is designed to reduce pain and relax muscles. It features adjustable therapy settings, so you can customize your treatment. The strength and intensity of the pulse can be altered from 0-100mA in 10mA steps, with convenient knobs located at the top of the device for both channels. For optimal performance, the electrode must be used in pairs; it will not function properly when only one is implemented.
3. Airelax KRES100B TENS Unit
Airelax KRES100B TENS Unit is a powerful device that helps to relieve lower back pain and relax muscles. It offers twelve massage modes (including kneading, tapping, acupuncture, and cupping), an adjustable intensity from 1-20, and an LCD that shows mode and intensity. For optimal performance, four electrode pads must be used. With this device, you can customize your treatment for maximum relief.
Troubleshooting Tips If The Tens Unit Isn't Working Properly!
If you experience any problems with your tens unit, there are a few simple troubleshooting steps that you should take. Firstly, ensure that all cables and wires are connected securely, and try turning the device off and on again to reset it. If this does not fix the issue, check whether the battery is fully charged or needs replacing.
If these tips do not resolve your issue, contact your healthcare provider for further assistance. Failure to seek help may lead to frustration or unnecessary repairs. It is important to follow the manufacturer's instructions carefully when using the device, as incorrect use may also result in non-functionality.
Conclusion
Using a Tens unit can be an excellent option to consider if you suffer from lower back pain. It's easy, effective, and far more affordable than expensive alternative treatments. While medication can help alleviate the symptoms, there's no guarantee that it will provide lasting relief.
As always, however, we do advise seeking medical advice before attempting any self-treatment option such as this one.
If you find yourself in need of reliable Pain Therapy alternatives, don't hesitate to contact us directly. We'll advise and guide you on appropriate types and techniques of therapy options available for your situation. Trust us – you won't regret spending time exploring all your available treatment options. For more details visit Airelax!